Architectural Membrane Shading from MakMax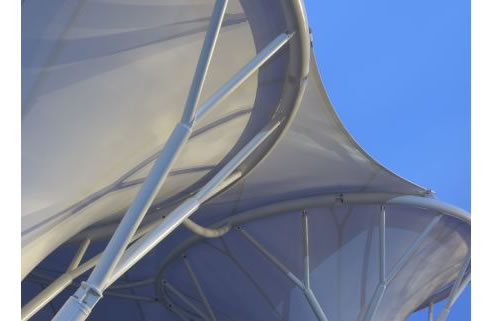 Special Features
Based in Melbourne, Victoria Australia, Flemington Racecourse aims to provide amenity and shade to the punters entering the racecourse.
The purpose was to provide a dynamic meeting point to the North of the Flemington Racecourse, where people can meet, greet and gather prior to entering the grounds. The client requested that the structure reflect existing trees around the Northern entrance and to create a fantastic and newly developed addition to Melbourne.
The inverted cones provide a dynamic and structurally stimulating environment that replicates the surrounding existing trees and continues the focus of Flemington's beautifully manicured gardens: the central column being the trunk, the CHS steel frame represents the trees main branches and the seams of the fabric represent the smaller branches. The structure also was deemed environmentally friendly as the water is gathered and channeled to their storm water storage pit to water the surrounding gardens and trees.
The difficulty in bringing this project together was that the structure had to replicate trees to continue the garden theme of the racecourse. The successful structure now provides a focal point to the entire site for people to gather together. The structure is dynamic, energetic as well as environmentally friendly. Of an evening it transforms into an enormous lantern, assisting the people from the car park, railway station and bus-stops to find the entrance quickly and safely.
The result of this structure was immediate as the client purchased an additional five modular structures for another zone of the site.