Bio-Bacterial Stain and Odour Remover from Bio Natural Solutions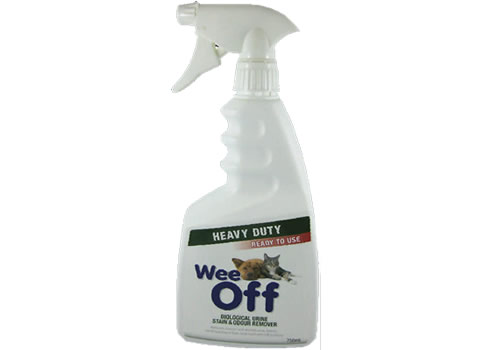 Wee Off™ Bio-Bacterial Stain & Odour Remover is a natural way of removing stains and odours from hard and soft surfaces. Wee Off™ works by releasing fast acting bacteria that penetrate most hard and soft surfaces to source out and digest the culprit of the stain or odour. Wee Off™ breaks down organic matter such as urine, wine, coffee, food, milk, sauce, vomit, faeces, blood, any organic matter, eliminating the source of the problem rather than masking it. Wee Off™ is the product of choice for urine related cleaning problems.
Ideal for
Urine stain & odour remover
Carpet & upholstery cleaning
Domestic use
Hospitality industry, hotels and motels
Animal enclosures, pet shops
Mattresses, couches and curtains cleaning
Concrete, brick, wood, paving, tiles, urinals
Age care facilities and nursing homes
Directions for use
Wee Off™ is very easy to use and only small quantities are needed for optimum performance. By following the steps below you will rid yourself of even the toughest stains and smells.
1. Shake well before use and never dilute.
2. Always check for colourfastness.
3. Pick up solids and wipe up excess liquid.
4. Dampen the offending area with cold water.
5. Spray Wee Off™ on the offending area.
6. Allow Wee Off™ to air dry. Do not rub or scrub the offending area.
7. Vacuum to remove any residual matter.
8. Repeated applications may be required for old stains.
9. DO NOT CROSSCONTAMINATE WITH CHEMICALS.
Testimonial
Visit our website to listen to the testimonial given by Kaye Brown about Wee Off™. Kaye Brown is a Pet Guru and you can listen to her show every Friday on 2GB.