Umbrella Heating for Outdoor Dining from Celmec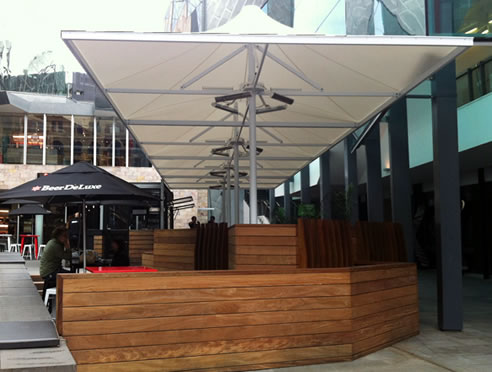 Beer DeLuxe
Beer DeLuxe is a café, salon bar, dining space and beer garden located in Melbourne's Federation Square. The corner in which Beer DeLuxe is situated is well shaded and affected by cool breezes in winter. Beer DeLuxe required not only a heating solution, but something that would draw attention to the establishment.
To heat the outdoor dining area Celmec's electric infrared heaters (IRH-E) were installed onto the existing umbrella structures to provide instant, directional radiant heat. IRH-E units warm people and surrounding objects, not the air or empty spaces. These units reach full operating temperature within seconds of activation, leading to energy savings associated with rapid warm up. IRH-E units have an infrared glow that provides illumination and draws the attention of passers by.
To further catch the eye of potential customers Celmec's Celight units were installed. These curved shaped light fixtures are set on the arms of the umbrellas so that the light reflects off the canopy, rather than shining directly onto the people below.
For more information and contact details visit the Celmec website www.celmec.com.au.