Heated Umbrellas for Outdoor Dining from Celmec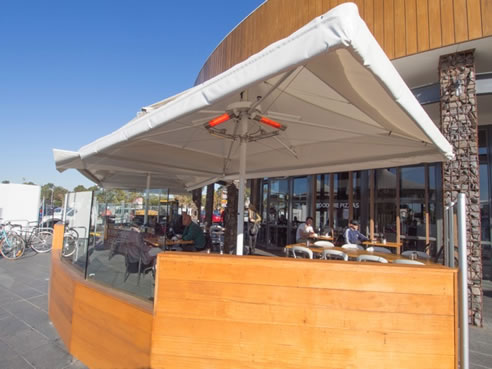 Degani, Barkly Square
Celmec and Degani have had a long relationship. You can see a range of Celmec's products at many of Degani's outdoor areas across Melbourne and country Victoria.
The most recent Degani installation has been in Barkly Square, Brunkswick in Melbourne. This area is prone to cold winds and the outdoor dining area was often left unused on cooler days. To solve this problem, three of Celmec's Heatray Umbrellas (2 x CS32 and 1 x CR45) were installed with electric infrared heaters (IRH-E) and Celmec's Celights to provide better lighting and atmosphere.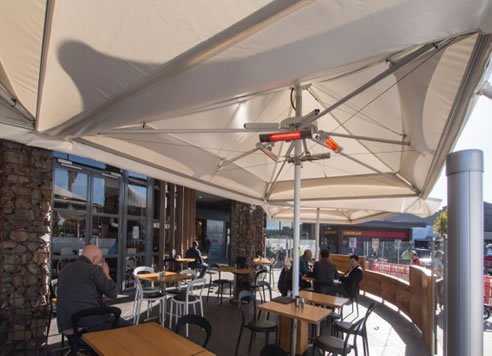 Heatray umbrellas are purpose built permanent structures, engineered to withstand all weather conditions including high wind loads of 120 km/h, with the option to upgrade to higher wind ratings if needed. Linking gutters and rainwater run-off gutters were used at the Barkly Square location to provide additional protection from rain for patrons. The IRH-E units provide instant high-intensity heat that warms the objects and people below, not the air that can be blown away, leading to significant power savings. The combination of Heatray umbrellas and the TRH units have increased the seating capacity of Degani, Barkly Square from approximately 60 to 100 people.
Heatray umbrellas are available in a range of sizes and colours, and have the option of including weather accessories, lighting, glare reduction and multiple heating solutions. For further information please contact Celmec International via www.celmec.com.au