Thermal Insulation Board Thermasheath-3 from Composite Global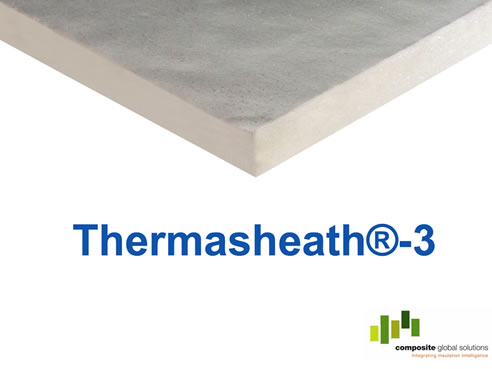 CGS - THERMOSHEATH-3 PIR Soffit Insulation Board
THERMOSHEATH-3 is an energy-efficient thermal insulation board composed of a rigid closed-cell polyisocyanurate (PIR) foam core bonded to reinforced, reflective foil facers on each side.
THERMOSHEATH-3 utilises a CFC, HCFC and HFC-free blowing agent that has zero Ozone Depletion Potential (ODP) and negligible Global Warming Potential (GWP).
Applications
- Carparks
- Soffit areas
- Ceiling applications in new construction for commercial, residential, agricultural and industrial buildings.
Installation
THERMOSHEATH-3 is incredibly easy to install. The lightweight rigid boards are effortlessly cut to size and joints can be taped for aesthetics. TS3 boards are easily drilled offering excellent access for installation of services.
Sustainability attributes
Emits low VOCs. Packaging is reduced. Low embodied energy. Low embodied water. Reduces waste or pollution. Reduces heating or cooling load. Reduces energy consumption. Reduces heat loss.
Documents
- Technical Datasheet