Full Height Corner Meeting Cavity Sliders from CS Cavity Sliders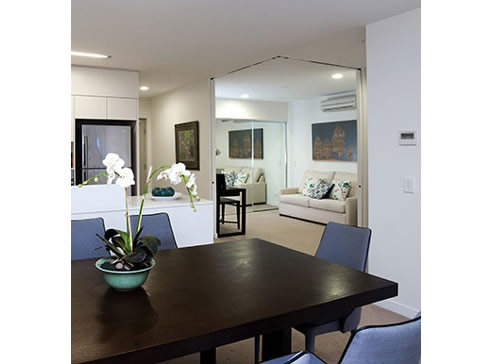 The Village at Coorparoo
Following from the successful delivery of Stage One, CS Cavity Sliders are currently working with McNab Construction on Stage Two of this 58 unit independent living complex. This high quality, multi-level development is the only integrated retirement living community in the south/east city fringe.
Nestled among leafy streets and perched on elevated grounds, The Village Coorparoo delivers much more than just a totally integrated retirement lifestyle for over 65's. Architect-designed luxury apartments within a sought after inner-city southern suburb offer spacious living and recreational areas, so you can enjoy life at whatever pace you choose.
CS Cavity Sliders provided a range of product to the project including our standard CS Timberformed units for single door leaves. CS TimberFormed is a high quality architectural cavity sliding door system engineered to fulfill the requirements of today's modern building designs. The original design has been improved continuously since 1986 and this product is currently our most widely used unit. There are a number of detail options available to customise this unit to suit your requirements.
Incorporating high quality, one-piece aluminium extrusions and timber jambs, CS TimberFormed is made to measure for door sizes up to and including 2700mm high x 3500mm wide.
CS also supplied corner meeting units with full height detail finish to really open up space in the units. Full Height detail enables the underside of the track when installed to finish flush with the underside of the ceiling. This eliminates the need for head jambs and provides a continuous flow in your ceilings from room to room. CornerMeeting detail enables you to easily open up a wide area providing flow throughout a design - stylishly and effectively.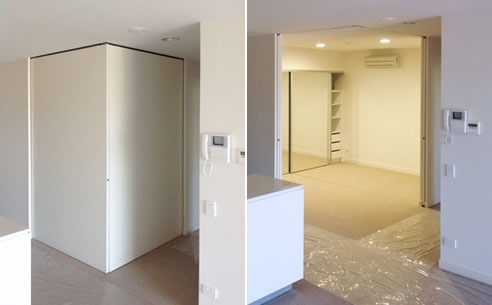 Once again, CS provided detail drawings, undertook site design and measurement meetings to completely and clearly understand McNab requirements, and worked in with site time frames to ensure product was on time when required - not too early resulting in storage, and not too late causing hold ups!