Square Stop Jamb Finish from CS Cavity Sliders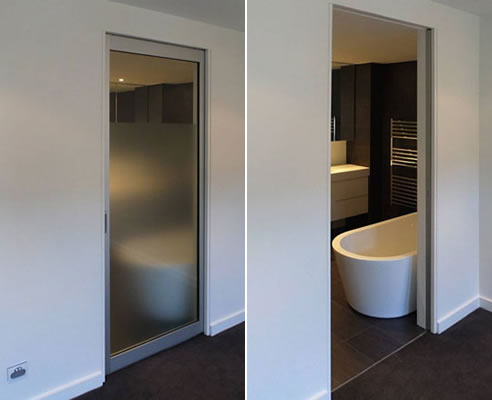 Esque Apartments
CS Cavity Sliders recently completed the Esque apartments with Helm in Mosman NSW. Esque consists of 29 Luxury Apartments and was completed by HELM in September 2013. All apartments sold prior to ESQUE's opening and the project was worth $15m.
CS Cavity Sliders align with Helm in sharing very similar value propositions. Our cavity pockets are manufactured with a patented cavity frame that is fully tested and guaranteed in writing for ten years. CS pockets are engineered from high quality, heavy duty, extruded aluminium and the door and carriages can be removed without removing wall linings. Doors up to 500kg can be accommodated with CS track and carriage systems. CS representatives worked closely with Helm project managers, site foreman, and finishing managers throughout the project to ensure the cavity sliding doors were delivered on time, to spec, and budget.
The project demanded a modern, upmarket look and so the square stop design was used throughout the cavity sliders on the job. Square Stop detail allows the builder to finish the wall with no visible jamb liner. Because this look creates a minimalist jamb finish, it is a natural partner for a number of other products and options in the CS range. It works particularly well with CS Full-Height and CS No Closing Jamb detail, providing a seamless, clean flow around doorways. This detail is ideal for use with room dividers and for areas such as hallways where you want a discreet door that is rarely closed.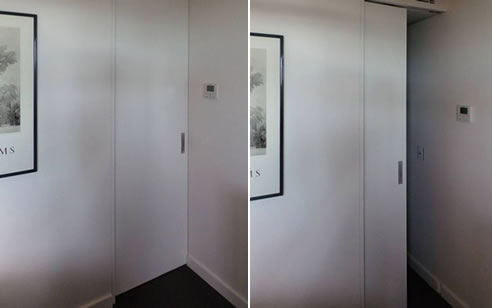 The modern features of the CS SofStop Cavity Sliders in doors and access panels were incorporated on the single leaf cavity pockets. The CS SofStop is the newest addition to the CS Cavity Sliders range and combines all the features of Australasia's highest quality cavity sliders with new, innovative soft close technology.
The New Yorker door leaf was utilised in the large sliding doors (over 1020mm wide). The CS New Yorker is a stylish prefinished door frame that can be glazed using a wide range of materials, in this case 6.38mm translucent laminate glass. This solution achieved the open feel of the project whilst also having the ability to close off a large area and retain privacy.
Helm and CS worked closely together throughout the project from start to finish. CS Cavity Sliders pride ourselves on being the Experts in Cavity Sliding doors and Track systems. CS provided a quotation from the door schedule and plans, completed a site measure on site, produced shop drawings for every unit and then turned around the product from confirmation of order to meet the project schedule. This has led us to now working together on Helms Ramsgate development currently in construction.