Shock Absorbing Rubber Pavers from Sherwood Enterprises

EQUINE RUBBER CUSHION SHOCK ABSORBING PAVERS
Sherwood Enterprises has currently stock of recycled rubber horse pavers in terracotta red having recently completed purchase bulk containers of Equine Pavers for the supply /installation re: The Magic Millions Parade Ring on the Gold Coast QLD Australia.
Easy to install DIY Interlocking recycled rubber pavers with excellent cushion comfort and porous so no more puddles and ensuring the traction slip resistance properties of recycled rubber which is derived from utilizing post waste stocks of car tyres so an environmentally friend choice of paving.
Great for Parade Rings, Horse walkers around Swimming Pools - Spas - Stable Entrances - Pathways or Gate Entrances to Paddocks around Feed Bins & water troughs or gardens pavers & patios.
We also have on Special until Sold out Interlocking Wash Bay Mats - 914x914x16mm thick.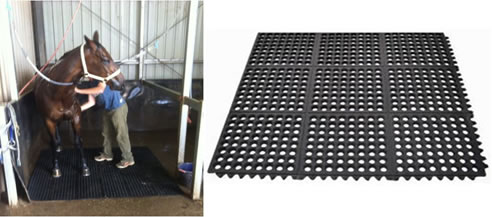 Finally for Stables Stalls, Floats, Trucks, Entrance mats or utility storage rooms we have our most popular mat Item 1001A 1820x1220x18mm thick featuring a croc traction anti-slip surface non-porous non-absorbent mat and bacteria can be promoted in these mats with studded base for air circulation and underfoot comfort of your equine.

1001A Equine Homogeneous Mat
Sherwood Enterprises is 100% Australian Owned & Operated Family Online Distributor business marketing Equine Rubber floorings at Lower Distributor Discount Pricing & established since 2004 in QLD.
When you purchase from Sherwood Enterprises your also assist many other small Australian Business to help get our economy back on track - So Thankyou.