Non-Toxic Concrete Finish from Livos Australia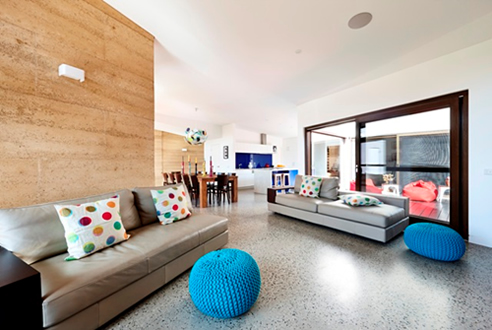 In Australia more and more concrete slabs are being used due to the increased awareness of the thermal properties of a slab. As one knows this is most useful and works well where the climate is cool or there is a high temperature range.
A lot of coatings and finishes are relatively new to being applied to concrete, many having only been on the market for a short period of time. This combined with building practices, concrete substrates, deadlines and ones expectations of the final finish can often lead to a disappointing result.
Livos oils have been successfully used on concrete (and other surfaces) for a number of years both in domestic and commercial situations. The Kunos natural oil sealer #244 has been slip resistant tested however as the oils do not create a layer on the surface, the oils do not create a slippery surface. There are 2 options for treating your concrete flooring using the Livos oils which are:
First option: First prime with the Linus priming oil #260 and then apply two coats of the Kunos natural oil sealer on consecutive days. This leaves a nice lustre to the surface as it has more waxes and resins in the oil. The treated surface would take on a darker (as when the surface is wet) look. Whilst Kunos can be used as a standalone product this would only be recommended on very highly polished concrete as the Kunos is not deep penetrating and therefore can result in patches that are extremely difficult to fix.