Solis Largest Sunscreen Infinity Blind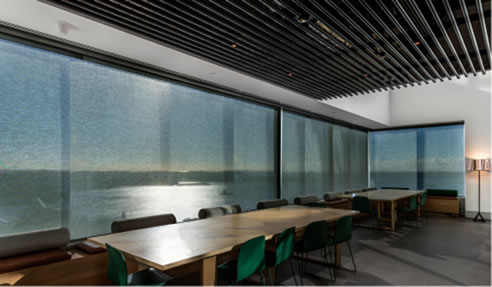 Solis Products makers of Australia's largest sunscreen infinity blinds offer a practical solution to controlling light, UV and glare without compromising the view. Sunscreen fabrics are designed to protect residential and commercial structures against heat and damaging ultraviolet rays.
Letting in the morning sunlight in offices and other commercial settings enhance productivity and energy. However, without adequate protection, too much sun exposure can cause damage to soft furnishings, carpets and furniture, and other office equipment.
Sunscreen fabrics protect furniture and carpets by allowing sufficient amount of sunlight into a room while diffusing glare and heat.
With so many sunscreen fabric options available, knowing the right material composition and how it affects the function of window coverings is essential. Solis have the knowledge and experience to maximise the benefits of a sunscreen blind application, not to mention the added advantage of supplying the largest sunscreen infinity blind on the market.
Solis Products has an extensive range of sunscreen fabrics to choose from. One outstanding product is the Revolution® sunscreen fabric made from 100% all natural and recyclable materials. It is the world's first sunscreen fabric to be awarded Cradle to Cradle Certified™ Gold. Revolution® is manufactured from plants that are annually grown and converted into a bioplastic. The bioplastic material is then woven into high-quality fibres called Ingeo™, the core component of the innovative and environment-friendly Revolution® sunscreen fabric.