Soil Stabilisation for MPavillion Project from KHD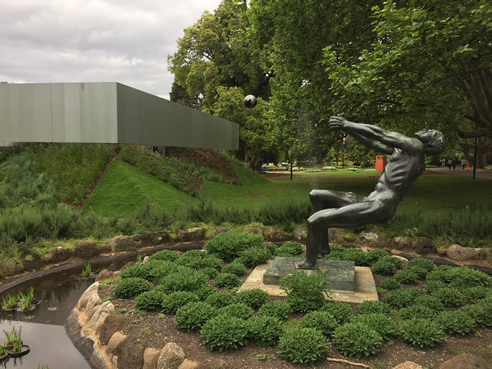 MPavilion 2017 Project
MPavilion is a becoming an iconic Melbourne event that will no doubt sit comfortably along side others such as Moomba and the AFL Grand Final in years to come.
MPavilion 2017, open from 5 October 2017 - 4 February 2018, is a civic space and a cultural laboratory in which Melbournians are experiment and experience, through the event hub and meeting place.
This year's MPavilion is the fourth of its kind, designed by Netherlands-based architects Rem Koolhaas and David Gianotten of OMA. OMA is an international practice and MPavilion 2017 is their first-ever completed Australian architectural commission.
Coolth Inc was engaged by OMA to construct the landscaping, which is an angular, faceted embankment, which forms the back of a semicircular tribune.
Achieving the challenging design was possible thanks to using KHD's VersiWeb. VersiWeb allowed Coolth Inc to plant 4000 Australian native grasses in a steep slope and formed the sharp edges of the embankment's geometric pattern. We really love this design.