Heavy Landscape Drainage Solutions for Rotorua CBD by Hydro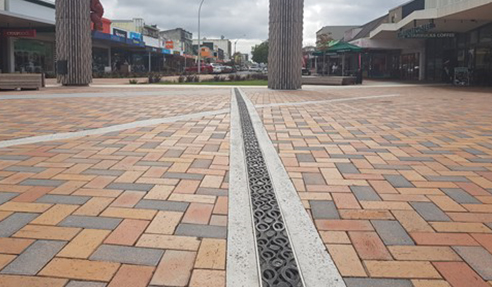 Since 2003, Hydro Construction has been striding ahead with their heavy landscape drainage solutions that excel when compared to traditional water management systems across Australia and New Zealand. For the highest quality of drainage channels, grates, electrical and storm pits, Hydro has established a long-term partnership with MEA Group, a global expert in water management systems.
Heavy Landscape Drainage Solutions for Rotorua CBD
The Rotorua District Council has initiated a streetscape refurbishment project in the heart of the CBD, with a design brief that would showcase a lively and environment-friendly city. Involving Te Manawa, formerly Rotorua's City Focus, the council aims to provide a distinct element that would reflect the cultural significance of Te Arawa tribe to the district.
Working closely with Fletcher Construction Hamilton and Bespoke Landscape Architects Auckland, Hydro Construction supplied the MEA GALA Supreme Cast Iron Designer Grates, with edge rails built for heavy duty applications, A10 to G900 Load Class.
MEA GALA heavy landscape drainage products are widely used for garden and landscape projects in the account of their durability and functionality without the need for luxurious spending. Lightweight yet highly impervious to corrosion and chemicals, Hydro Supreme is an ideal solution for an array of project types such as the renovation of Rotorua CBD.
The cast iron designer grate is made of integrated polymer concrete, which consists of natural minerals (quartz, basalt and granite) mixed with resin bonds. This landscape solution excels for its excellent hydraulic performance, impermeable and pore-free surface, U-shaped channel with internal slopes that prompt a faster water ingress while protecting the groundwater from harmful chemicals.
Hydro also supplies the MEA Supreme made with stainless steel or galvanised steel edge rails for general purpose applications up to D210 Load Class. All heavy landscape drainage solutions in the MEA Supreme catalogue are built in compliance with the Australian Building Standard 3996-2006, which specifies the requirements needed in installing access covers and grates in pedestrian or vehicular areas.
For more information about Heavy Landscape Drainage Solutions from Hydro, visit www.hydrocp.co.nz today.