New Britex web site - a stainless steel resource centre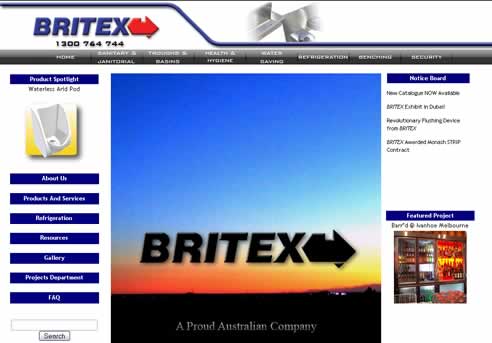 It is with great pride that Britex announces the re-launch of the new Britex website www.britex.com.au.
As part of Britex's ongoing commitment to provide their industry's finest support to specifiers and consumers, Stage 1 of the new website was designed with servicing these audiences in mind.
Britex Managing Director, Cam Risstrom says about the website, "ultimately we wanted to produce a site that not only showcased and detailed our range of products and services, but provided specifiers with a selection of easily accessible and relevant resources related to Stainless Steel, Sanitary products and Refrigeration in general."
Developed in-house to coincide with the launch of the brand new Britex catalogue, the website will over time continue to be developed and updated to ensure specifiers and consumers alike are kept updated on such matters as new product developments, industry-related happenings and general news at Britex.
New features at www.britex.com.au;
Downloadable PDF format data sheets for ALL catalogued products.
AutoCAD drawing request form.
Resources on how to select and care for Stainless Steel products.
Sections dedicated to Water Saving, Environmental and Disabled Access products.
A guide on specifying Britex products by project type.
Portfolios and Photo Galleries of selected completed projects.
An FAQ section dedicated to all things Stainless Steel and Sanitary.