Flotex carpet from Karndean Designflooring received seal of approval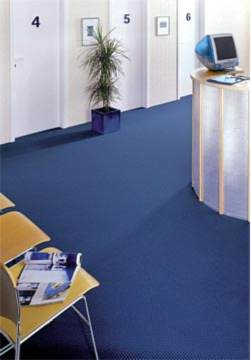 Flotex has been around for over 30 years and has proved it is tough enough to take whatever life throws at it.
Completely waterproof, Flotex has become a popular choice in the commercial flooring trade.
Durability, resilience and soil resistance make Flotex a leader in high-traffic commercial and domestic environments - it has even gained the seal of approval from the British Allergy Foundation. The dense pile traps microscopic allergens, stopping them from becoming airborne and ensuring they can be easily vacuumed away.
Karndean International, the Australian distributor of Flotex, has introduced new 2007 colour's, which hit the Australian market in April. The 2007 range includes nine designs, each providing different creative options, with a total offering of 34 colour selections varying from vibrant blues to subtle grey's. The new collection of styles and patterns will suit a variety of interior applications.