StreetPrint Duratherm™ by MPS Paving Systems - traffic tough decorative paving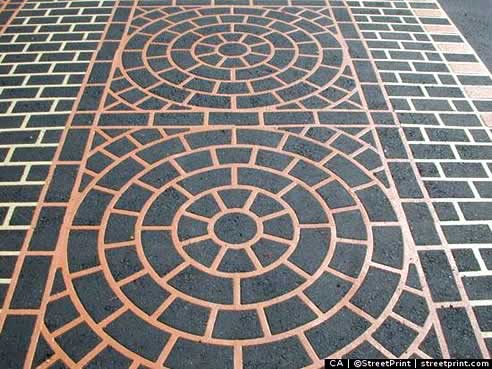 StreetPrint Duratherm™ was introduced to Brisbane City Council in answer to the markets demand for a decorative product for high volume traffic applications.
The high profile cross walk chosen, is situated in Caxton Street, Brisbane. Caxton Street is well known by locals and visitors for its various pubs, clubs, bars and seafood dining restaurants which are some of the best Brisbane has to offer. Caxton Street is also the gateway to pedestrian and vehicle traffic heading to the Suncorp Stadium with an average daily traffic count of 6,000 per lane, per day of both private and heavy commercial vehicles.
Due to the high profile of this project, it was decided that this project be conducted at night, once traffic restrictions were lifted. With the assistance of local traffic controllers the two centre lanes of the four were closed and application commenced at 8.00 pm. The two remaining kerb side lanes were completed individually and the whole road was re-opened to full traffic flow by 3.00 am.
The unique reheating process allows imprinting of the desired pattern into the asphalt substrate followed by the inlaying of preformed thermoplastic patterns which are in turn melted allowing bonding to the asphalt.
The result is a decorative inlaid surface that is highly visible, durable, and very fast to install allowing opening to traffic with minimal disruption and no maintenance burden.