Superior Screens Australia adjustable louvre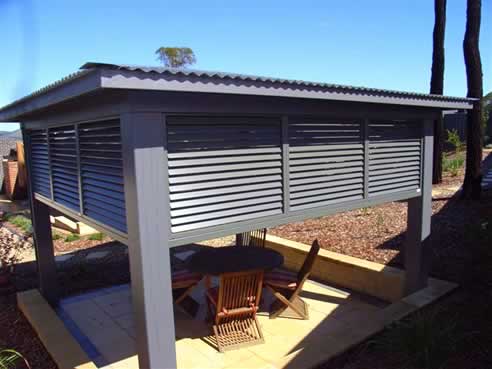 Superior Screens Australia has just put a new tilt on a traditional window screen with the release of its adjustable louvre that provides flexible protection from the weather and prying eyes.
Made from the omni-popular COLORBOND® steel, the adjustable louvre's can vary in angle placement by 180 degrees.
Superior Screens Australia General Manager, Ms Rita Turnour, said adjustable louvre's gave homeowners, builders and architects a new level of versatility when choosing their screening applications.
"Adjustable louvre's are so versatile and we've placed them on windows, around patios and decks, but they also make for the perfect adjustable roof," Ms Turnour said.
"Where fixed louvre slats need to be angled at fitting and cannot be changed for required airflow and shade, adjustable louvre's can be moved easily.
"Adjustable louvre's enable people to readily increase or decrease the amount of breeze, natural light, privacy and weather within their own homes or offices.
"When choosing adjustable louvre's, clients have flexibility when designing their homes to provide more protection from sun, rain and wind in winter; and less heat or more airflow to the same rooms in summer."
Ms Turnour said adjustable louvre's were custom-made to fit any size or style of window and virtually any colour scheme could be matched.
"Superior Screens Australia' louvre's are made from roofing-grade COLORBOND® steel, well known for its long life performance under harsh Australian conditions. In addition to COLORBOND® steel's 20 standard colour's, adjustable louvre's are also available in powder coated ZINCALUME® in a colour of your choice," she said.
Superior Screens Australia is Australia's leading producer of COLORBOND® architectural products that provide innovative screen, privacy, security and shade solutions to residential, commercial and industrial properties.
Superior Screens Australia has a national network of distributors - for your closest, please call 1300 766 799 or visit www.superiorscreens.com.au