Raw Steel Tiles from ALLOY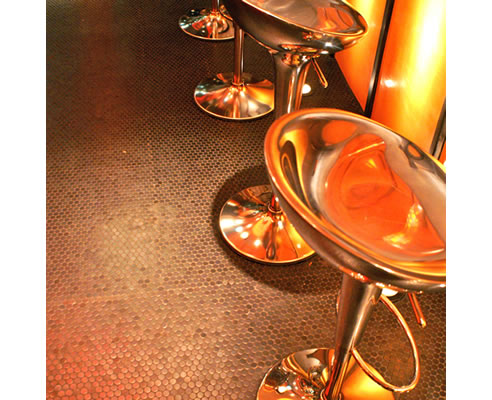 With the intriguing, deep blue grey tones of varying intensity ALLOY Raw Steel tiles and mosaics evoke a distinctly industrial feel. Carefully designed to provide an unsurpassed finish, ALLOY Raw Steel tiles are manufactured from mild steel embracing its inherent irregularities. As a result each solid metal tile can possesses a slightly varied tone - making every Raw Steel tile installation beautifully textured and truly unique.
ALLOY Raw Steel tiles are solid, long lasting, hardwearing and designed for longevity and can be used for both interior and exterior applications. Raw Steel will retain its rich, varied blue–grey tones indefinitely if used for interior purposes. For designers seeking a unique exterior look that will slowly change over time, Raw Steel tiles, if exposed to the elements and un-sealed, will oxidize and slowly patina. For the unique burnt-orange patina of Corten, its use can be specified in any of ALLOY's Raw Steel mosaic tile styles.
The Raw Steel finish is available in each of ALLOY's 26 tile styles, from traditional square mosaics through to the recently launched 'organic' Karim Rashid for ALLOY collection. ALLOY also offers a custom design and manufacture service for the creation of unique, high quality metal tiles to match any brief.
The metal tile of choice for leading designers and architects from around the world, ALLOY metal tiles and mosaics are designed and manufactured in Australia from the highest quality metals to maintain their integrity for a lifetime.