'Penny' Stainless Steel Tile from ALLOY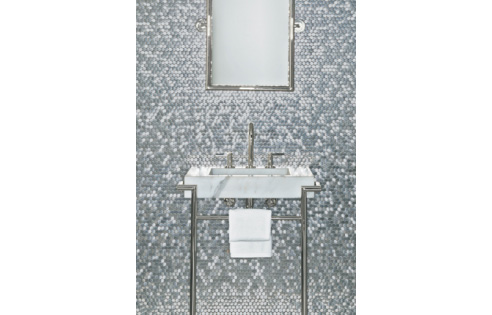 ALLOY is internationally recognised for its unique design aesthetic, innovative range of metal mosaic tiles & stainless steel homewares. ALLOY works with high quality metals & alloys inc stainless steel, titanium, copper, brass & raw steel to create modern objects, finishes & architectural features. Only the best resources & methods are used to create an unsurpassed finish.
Tile Features
Immaculately designed and manufactured in Australia to create an unsurpassed metal tile finish.
Punched from an individual sheet of 1.6mm solid, high quality stainless steel.
No backing mesh, plastic inserts or metal look-alike 'metallic' coatings. ALLOY stainless steel tiles won't dent, crack or de-laminate. Careful design and superior manufacturing ensures a fine 1.3mm grout line that won't overwhelm the tile.
Face mounted for better protection of the stainless steel tile face during installation.
Made in Australia. Consistent high quality. Guaranteed sweat-shop free.
To ensure the perfect installation we've developed a range of finishing pieces, just contact us for details.
If your application is for a pool, water feature or exterior use in an ocean environment, we recommend opting for Marine Grade stainless steel, available in either brushed or mirror finish.
To ensure you get the exact finish you're looking for, we suggest ordering a tile sample.
SAMPLES: Available to order online for AUD $5 each. This is refundable on your final ALLOY tile purchase. Each sample card is 100 x 100 mm in size and holds 6x Penny tiles and all tile specifications.
When you're ready to order your ALLOY tiles and finishing pieces, just contact us.