Epoxy Flooring for Supermarkets from Danlaid Contracting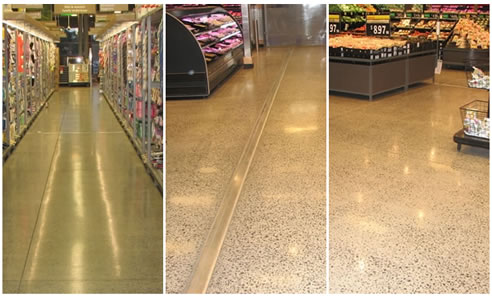 Danlaid Contracting specializes in epoxy flooring to supermarkets, both new and refurbished areas. Danlaid has experienced staff that can minimize the down time to the area being refurbished, such as Deli's, Meat rooms, Produce areas or even the sealing of concrete in the back of house store room.
PREPARATION
All off our preparation equipment is dust free and the grinding process we use means the noise is keep to a minimum.
OUR RESIN SYSTEMS
All of the epoxy resins we use in our flooring systems are low odour and have a high chemical resistance. Our DE 400CR will even resist attack by chicken fat.
WARRANTY
Our standard warranty is 2 years, this can be extended to 5 years 'please ask us how'
WHY YOU SHOULD CONSIDER DANLAID FOR YOU NEXT PROJECT
OUR KEY STAFF EACH HAVE OVER 20 YEARS EXPERIENCE IN SUPERMARKETS
OUR STAFF ARE FULLY TRAINED IN THE USE OF BOTH EQUIPMENT AND PRODUCTS
WE USE ONLY THE HIGHEST QUALITY PRODUCTS ON THE MARKET
OUR WARRANTIES REALLY ARE WARRANTIES
WE FULLY UNDERSTAND THE CARE REQUIRED WHEN WORKING AROUND YOUR STAFF AND STOCK
OUR PRICING IS COMPETITIVE
WE HAVE BRANCHES AUSTRALIA WIDE.
Danlaid Contracting Pty Ltd Profile
Vic: (03) 8514 6300
Qld: 1300 363 151
43 De Havilland Road, Mordialloc, Vic, 3195