Insulated Ceiling Panels for New Builds or Retrofit from Versiclad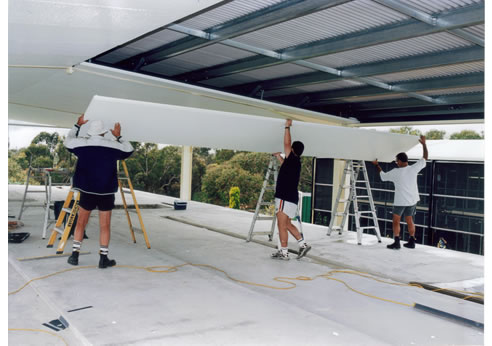 Ceilink insulated ceiling panels for new builds or retrofit
Versiclad's Ceilink pre-finished insulated ceiling panels are specifically designed to fit under existing or new single skin roofing or line an existing wall.
Ceilink panels combine a clean white steel ceiling face with an EPS insulated core and a top layer of foil sarking. Strong, safe, lightweight and able to span up to 4 metres unsupported, Ceilink has endless residential, commercial and industrial applications.
Quick and easy to install, there's no need to replace your roof or install bulky insulation, with all the associated mess. Providing outstanding insulation, and a pre-finished maintenance free ceiling, Ceilink panels will keep you cool in summer and warm in winter.
Ceilink features:
Quick and easy to install
Easy to handle and light weight 900mm wide panel
Can be fitted to create a raked or flat ceiling
Unsupported spans of up to 4m
Made to order lengths of up to 6m
Excellent thermal performance
Fire retardant EPS insulated core dramatically reduces radiant heat transfer, mould and condensation
Excellent noise absorption properties.

Commercial Kitchen - Before & After

Residential Patio - Before & After