Frameless Curved Glass Balustrading from Bent & Curved Glass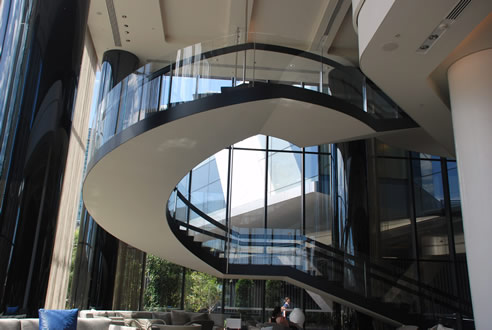 BCG Creates Ribbon of Glass
When determining the brief for their third hotel in the Melbourne Casino precinct Crown told Bates Smart Architects "we want something sexy" Their response produced the drama of the double height lobby space highlighting a sculptural ribbon staircase which rises through an impressive 7.2 metres. The stair features a fully frameless curved glass balustrade, manufactured by Bent and Curved Glass Pty Ltd.
BCG worked with Bates Smart Architects through the design development phases, which led to an evolving design, resulting in the largest cantilever staircase of this type in the Southern hemisphere. A horizontal cantilever of approx. 12.5 metres is achieved with no visible means of support from below.
Glass became a key element in allowing such a large dominant structure to attain a lightness and fluidity which reflected the "ribbon motif", consistent with other major elements of the overall design. The glass balustrade allows a free flow of light and vision through the void area.
The strong dark lines of the stringer and handrail elements snake through the space unhindered by the clear clean glass expression of the balustrade and the thin supporting tension rods from above.
The cleverly simple detailing employed by Bates Smart contributes to this sense of lightness which can be felt by the visitor as they ascend and descend. Curved toughened glass is conceal fixed into a bottom recess independent of the handrail and post supports.
Curved laminated glass to a very small radius is also incorporated at the top of the stair where the balustrade returns through a very tight bend as the stair landing transitions into the upper floor level.
Bent and Curved Glass are constantly working to develop new methods and techniques to meet the growing demands from Architects and Designers for innovative solutions in Glass.
Contact: Ph: 02 9773 1022 www.bentglass.com.au