Heating Large Outdoor Areas with Heatray TRH Gas Heaters by Celmec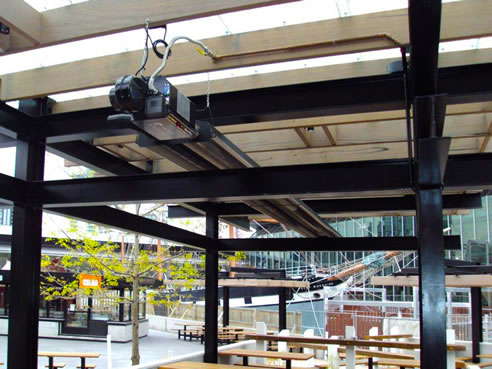 The Boatbuilders Yard - South Wharf, Melbourne
The Boatbuilders Yard, located on the banks of the Yarra River, recently installed Celmec Heatray Tube Radiant Gas Heaters, to warm their large outdoor area.
The venue retains the cultural heritage of Melbourne's maritime precinct, with a modern design twist. It was important that the heating system installed fit aesthetically with the space. Celmec's Heatray TRH gas heaters fit perfectly with the industrial design.
It was also vital that the heating system perform well in the exposed area. Celmec's Heatray Tube Radiant Gas Heaters produce radiant warmth, which directly heats people and objects, making it extremely efficient in large open spaces. Each TRH unit was installed overhead, suspended from beams, providing directional heat onto people below. The heat coverage from each of the Tube Radiant Gas Heaters is large, allowing the huge space to be heated with few units.