Fire Resistant Panels with Thermomass from Composite Global
THERMOMASS - Helping Create Fire Resistant Dwellings.
If the heat waves and fires of the recent holiday period have taught us anything, it's that prudent insulating, and smart building practices are paramount to our comfort and safety during periods of environmental extremes.
The Thermomass concrete sandwich panel insulation system that we offer here at Composite Global provides the best of both worlds. In terms of comfort, the Thermomass system ensures a superior thermal envelope performance while greatly reducing the cooling costs during periods of extreme heat ensuring occupants can weather the hot spell in low-cost comfort.
Comfort aside, in extreme fire conditions like we've experienced this summer, the Thermomass insulation system offers something far more important than comfort -the protection of livelihoods and properties in the event of fire. Utilising the non-combustible nature of concrete, the Thermomass concrete sandwich panel system displays extraordinary fire resistant properties as outlined in the following case study.
In 1998, a large fire broke out at a tilt-up facility in Wisconsin, USA. The facility was comprised of the original wooden framed warehouse, which had been later extended using the Thermomass precast panel system. In the aftermath of the fire, inspectors noted that while the wooden building had been 'completely destroyed', the tilt-up portion of the facilities 'maintained structural and insulative integrity'. Spalling occurred only where the wooden beams directly adjoined the precast panels, and while swelling slightly, the Thermomass insulation remained intact and displayed no decrease in R-value performance. Furthermore, apart from aesthetic smoke damage to the panel surface, the only other damage to note was where caulk joints were directly exposed to fire - a quick and inexpensive repair. While the case study cannot be disclosed for proprietary reasons, the following pictures (1 & 2) highlight the contrasting damage to both the wooden and tilt-up portions of the facility.


Figure 1 - Aftermath of fire at the tilt-up facility showing contrast of damage to wooden vs. tilt-up buildings. Figure 2 - Result of direct exposure of caulk joint to fire. Relatively inexpensive re-caulking required.
As further evidence of the Thermomass system's fire resistance, the following pictures (2A, 2B & 2C) show the action and aftermath of a fire at a large cold-store facility in the US. As is evident from the photos, the lightweight portion of the facility was completely destroyed, while the Thermomass panels have been left relatively unscathed and completely functional.
Perhaps more relevant to recent events, the following image shows the aftermath of a Californian bush fire - the only remaining house happened to be a THERMOHouse.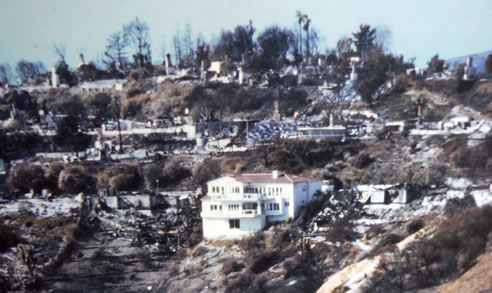 Figure 5 - Aftermath of a bushfire in the Californian hills. A solitary THERMOHouse remains largely undamaged.
If your next project is situated in a fire prone area, or you're simply looking to provide the most comfortable living experience for the building's future occupant, follow the link to our website to find out more.