Equine Dairy Rubber Flooring from Sherwood Enterprises
Sherwood Enterprises the Australian Owned & Operated Equine Dairy Flooring Distributor is delighted to advise we have added the following Equine Dairy Rubber Flooring ranges as stock due to client requests.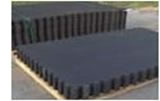 Item 1005 Equine Dairy Heavy duty non-porous grooved drainage base Re-vulcanized Interlocking mats. Ideal for Stables stalls. Breezeways, Cow platforms Alley ways and Wash bay areas and Utility Rooms, Floats & Truck Transport flooring.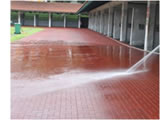 Item 1008 interlocking permeable terracotta red recycled rubber pavers. Size 160 x200x43mm thick heavy duty Ideal for Horse walkers, Stables breezeways, Tack Rooms, Tie up Areas, Wash bays. Saddling areas, Pathways, Drive ways, Patios, Entrances, Swimming Pool surrounds Feed & Bins water trough areas.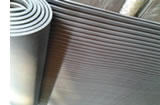 Item 1002 Wide ribbed Rubber Sheet roll flooring heavy duty Re-vulcanized non-porous rubber 1.2 wide 10mm thick 12m2 per roll. Idea for Stable flooring breezeways, Float Walls & floors, Ramps, Truck flooring Ute trays.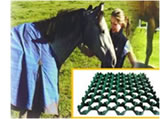 Item 1009 Interlocking Drainage Permeable Grids. Heavy duty withstands up to 180 ton in weight and stabilizes the ground in Abbotoirs Holding Yards, Day yards, Feed bins Water trough areas, Gate entrances in muddy paddocks. Your permanent answer to the stopping the mud with Interlocking Drainage Grids are also great for Driveways, Pathways and a Grass parking areas & soil erosion areas.