Outdoor Heating for Clubs from Celmec
Mulgrave Country Club
Mulgrave Country Club is a community club that offers sporting and function facilities to its members. To celebrate its fifty-year anniversary, the Mulgrave Country Club has undergone major developments and refurbishments.
Teaming up with Bate Design, Celmec has been a part of this refurbishment assisting in the extension of function areas through the installation of outdoor heaters. In the first stage of the project Celmec's foldable Heatray umbrellas (CTS 43) were used to extend the lounge terrace and breakfast area. Some of these umbrellas also have Heatray electric Infrared Radiant Heaters (IRH-E), Heatray Electric Radiant Heaters (ERH) and Celights to provide warmth and atmosphere.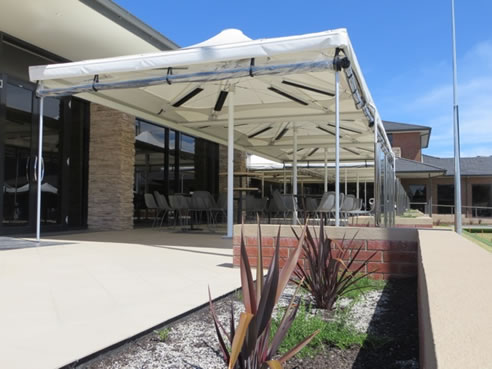 Stage two saw additional umbrellas being installed to the members terrace and the function room terrace. ERH units were also mounted to the ceiling of some indoor areas to provide patrons with a comfortable, even heat. Celmec was also asked to create custom shade structures for the lawn bowls area. These shade structures were designed in house and seventeen of these units were put into production. These structures were specifically designed to match the other Celmec installations on the premises.
IRH-E units provide instant high-intensity heat that warms the objects and people below, not the air that can be blown away, leading to significant power savings. ERH are specifically designed for outdoor heating applications and are suitable for low ceiling structures with no ventilation. ERH heaters have an Ingress Protection rating of IP65, being totally protected from dust, whilst allowing low-pressure water jets to come in contact with the unit from any direction.