Shadowline Cavity Pockets from CS Cavity Sliders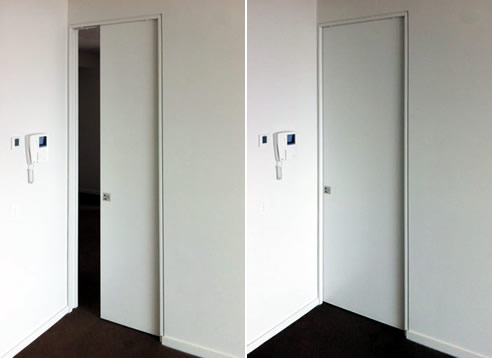 QIII Apartments
QIII is a residential tower development in the heart of the East Perth Re-development precinct, bounded by Hay St and Adelaide Terrace, adjacent to the WACA.
It is predominantly a precast concrete framed building with a 4 storey podium and a further 22 storeys of tower culminating in 3 levels of executive penthouses. Overall, the 26 storeys above ground include a total of 267 luxury apartments, a swimming pool and spas in landscaped surroundings at level 4, retail units, a gym and expansive reception facilities at ground floor.
CS Cavity Sliders supplied over 180 cavity pockets to the project through Diploma Construction. These pockets were custom made to suit on site detail matching a critical underside of head measurement. All units were finished with a Shadowline detail on the jambs made easier by the incorporation and additional strength provided by the CS 3-cell split jamb.
The penthouse units incorporated patented soft closing cavity sliders - The CS SofStop. The CS SofStop is the newest addition to the CS Cavity Sliders range. Combining all the features of Australasia's highest quality cavity sliders with new, innovative soft close technology, the CS SofStop is a must have wherever quiet and safety are priorities. This smooth running, soft closing cavity slider is the ultimate in style and sophistication.
CS dealt with site Foreman Raj Dungar on the project liaising in terms of turn around times to meet the project schedule and ensuring all measurements were accurate and understood. CS flew to Perth to meet with Diploma to finalise product design and to demonstrate the ease of installation of product.
"The service of CS Cavity Sliders throughout the project was of the highest standard. From the time the CS representative arrived in Perth to finalise design through to the detailed and professional CAD detail of each product for sign off, through to the itemised delivery schedule. CS also demonstrated the ease of installation with our site team to ensure accuracy of installation. The product is the best on the market. The service rivals the product." Raj Dungar, Site Supervisor, Diploma Construction.
As a footnote, CS is currently working with Solwest Construction and Jaxon Construction for the second Tower in the development.
Client: Frasers Queens Pty Ltd
Product 1: ShadowLine Cavity Slider
Product 2: SofStop Cavity Slider