Patterned Floors with Kaleidoscope Collection by Karndean Designflooring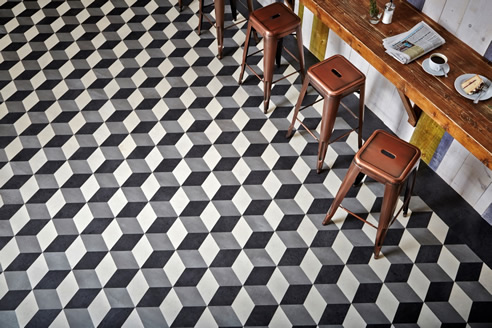 Karndean Designflooring unveils its unique Kaleidoscope collection
Australiasia's market leader in luxury vinyl flooring Karndean Designflooring is unveiling its most innovative and intricate designs to date with its highly anticipated, exclusive new Kaleidoscope collection .
Designed specifically to offer unparalleled flexibility for architects and interior designers looking to create a unique floor concept, Kaleidoscope features six designs as standard including Cubix, Pennon and Apex.
The collection contains popular shapes and patterns, such as hexagons, chevrons and cubes to name but a few, that can be cut in a number of colour combinations across Karndean's established luxury vinyl wood and stone designs. Kaleidoscope also introduces block colourways, giving designers the ability to specify bright colours against wood and stone for added visual interest in commercial and residential spaces.
"We've always been recognised for our designs that bring the beauty of wood and stone to flooring, but with much greater flexibility and 'workability'," commented Chris Davidson, head of commercial sales at Karndean Designflooring.
He said: "The tiles and planks, combined with borders and inset strips, can be formed into many 'standard' designs; but Kaleidoscope designs push this to a new level of design, allowing complete freedom for unique shapes, sizes, colour combinations and patterns."
For more information, visit www.karndean.com/kaleidoscope.