Shock Absorbent Horse Flooring from Sherwood Enterprises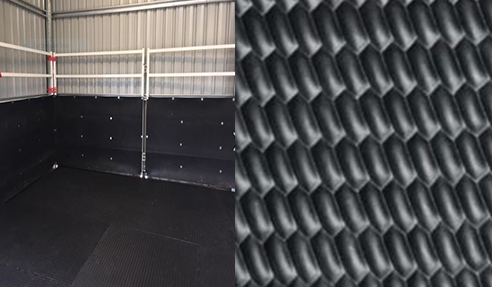 Design engineers have developed new technologies for horse flooring with benefits that surpass just a hard rubber stable floor. Shock absorption, impact-resistance, and cushioned comfort are very important for animal health and well-being, that's beneficial day-in-day-out in horse stalls and float flooring!
Our Horse Flooring design engineers noted athletes have shoes that provide comfort and anti-fatigue shock impact absorption, so a gel soul cushioning product was developed with great success. Gym sports are well known for Eva flooring, chosen to reduce impact and injury from training or when performing in competition.
Considering the above proven benefits in sport shoes and gym/gports floors, studies showed stabled horses also require impact shock absorbing cushioned comfort to assist with long standing times, encouragement to lay down, and rise in confidence on a cushion base stable floor. Eva stable flooring is designed to be durable and with a density and hardness suited to horses.
See www.sherprise.com.au for items 4001 & 4005 wth demonstrated great benefits for horses during healing of leg or foot injuries plus muscle. Eva stable stall flooring assists with therapeutic anti-fatigue horse comfort for laminitis or arthritis. Test results also show cushioning increases blood flow circulation to a horse's frog.
Designed for hygiene, health, Eva stable and horse float flooring is non-porous, absoprtion, urine and bacteria resistant matting where liquids cannot penetrate into the mat and bacteria cannot be promoted. Featuring puzzled tab sides that interlock, the mats are non-toxic, easy DIY, with virtually no off-gassing as 100% rubber. The 4001 &4005 mat ranges achieve better thermal insulation results compared to most 100% rubber matting.
Start Saving Today on Horse Bedding Usage!
Items 4001 & 4005 provide savings on horse bedding - the number one question we receive daily - as you can reduce your bedding usage by 50% as the mats are designed and built to provide comfort.
Contact Sherwood Enterprises or visit www.sherprise.com.au for further inquiries.