Cushioned Stable Flooring from Sherwood Enterprises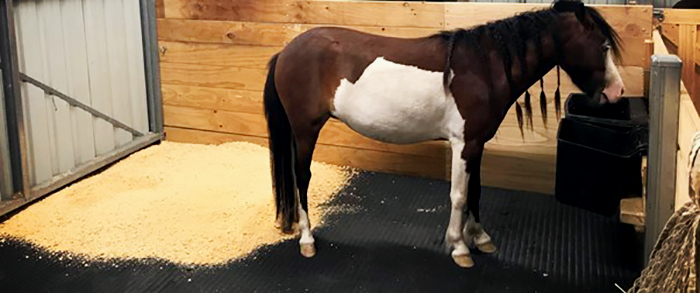 Sherwood Enterprises' Buckaroobarn equine flooring ranges have evolved as we've travelled, listened, and found proof of additional performance with horse stall flooring. Introducing cushioned stall flooring to the Australian Market - not just a hard rubber mat.
We sought flooring products like range 4005 that offered health benefits. Cushioned stalls and floats extend the comfort plus as the stall matting is 100% sealed, resists urine, bacteria, water, and that sickly, toxic smell of vulcanized rubber off gassing. The 4005 matting maintains optimal body temperature in stable environments and provides excellent insulation.
As a passionate thoroughbred family and horse breeders, we sought the best the world had to offer. Range 4010 bedding offers superior absorbency that traps ammonia from developing yet still provides a safe dry bedding surface.
The Performance Horse industry has reported therapeutic cushioned stall flooring supports and reduces or even eliminates stocking up and hock sores. This is because the flooring is non-abrasive and reduces the risk of musculoskeletal disorders (MSD). These disorders are injuries or pain in the body/joints leg, ligaments, muscles, nerves, and tendons. Importantly the cushioning also provides less leg fatigue and a reduction in tissue fluid accumulation.
The factory engineers designed innovative 4005 matting with horse stalls in mind. It is not heavy as it is 100% rubber but just as tough. They are semi-rigid and designed with an ideal density & hardness for horses.
Please! Consider your horse's health, safety, comfort, and indoor air quality today. Plus, cut down on bedding and enjoy quicker maintenance!