Karndean's Flotex flooring now comes 'sanitized'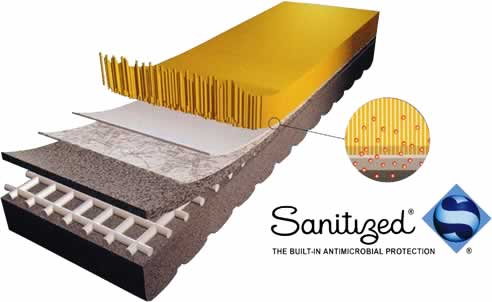 Karndean International, the Australian distributors of Flotex, are delighted to preview our new 2007 Flotex colours, which will be launched in late April. The 2007 range includes 9 different designs all providing different creative options with a total offering of 34 different colour selections varying from vibrant blues to subtle greys. The new collections of styles and patterns will inspire designs and suit all interiors.
Flotex, granted the British Allergy Foundation Seal of Approval, now comes "Sanitized" at no extra cost providing life long security, which is good news to health and aged care users.
Whilst conventional carpets rely on antimicrobial fibre treatments that wear and wash off with use or tuft-lock treatments far removed from the fibre end, Flotex offers real lifetime antimicrobial security because the backing top layer now contains "Sanitized", an antimicrobial agent.
"Sanitized" will migrate from the Flotex backing and onto the flock maintaining a consistent chemical concentration over the lifetime of the product, even after multiple cleaning cycles. This whole system is enhanced by the uniqueness of Flotex which uses short, straight, solid core fibres and an impervious backing that cannot absorb liquids and spills. You can scrub Flotex just like a standard vinyl floor.
The real benefits of new "Sanitized" controls stale odors and unpleasant smells, plus the growth of E. coli and other potentially harmful organisms (gram positive and gram negative) and prevents the growth of MRSA (Methicillin Resistant Staphylococcus Aureus) on Flotex.
Flotex's reputation for outstanding durability and cleanability means it is ideal to use in a range of busy commercial environments from health and aged care facilities to education, office buildings and retail settings.
Discover the uniqueness of Flotex by contacting our showroom on free call 1800 331 170 or enjoy our display at www.karndean.com.