Thermomass supplies for correctional facilities to give you that peace of mind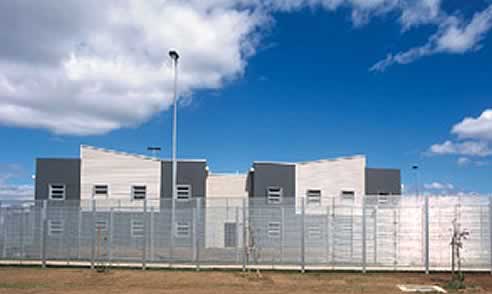 Security is the name of the game in correctional facility construction. Concrete sandwich walls insulated with Thermomass can give you that peace of mind.
Healthy and Safe
Health experts know that mold and mildew are serous problems in correctional facilities and have been identified as health hazards. These organism thrive in moist areas caused by temperature fluctuations usually located near places where the outside climate influences the interior walls. The Thermomass Building Insulation System keeps the outside climate outside. With Thermomass there is no moisture accumulation, and no moisture means no mold or mildew which means no problems!
Durable and Almost Maintenance Free
Insulated concrete sandwich walls have smooth finishes which are easy to maintain and can withstand massive amounts of abuse.
Economical Construction
Building a better facility doesn't always have to cost more. Concrete is relatively inexpensive and is one of the most durable and flexible construction materials available. Couple that with the added features and benefits of the Thermomass Building Insulation System, and you have a perfect solution.