Curved Glass Sydney from Bent & Curved Glass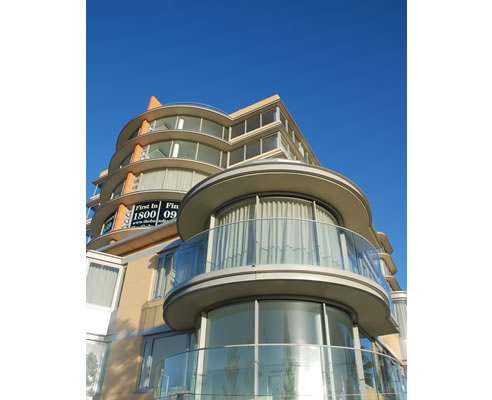 CREATING MORE CURVES ON BONDI BEACH
Bent and Curved Glass Pty Ltd have recently provided a range of curved glass products, including Laminated Curved Glass Windows and Toughened Curved Glass Balustrades, to enhance "The Bondi" Apartment Building which stands as the newest addition to the iconic Bondi Beachfront esplanade.
Curved glass is used as a device to open up the interiors to the expansive views of the beach and ocean beyond. It allows the corners of rooms to disappear and adds softness and lightness to the building's exterior. The generous arc of glazing to the main facade not only mirrors the curve of the beach it allows sideway or lateral views up and down the beach from within the interior of each apartment as well as external terrace areas.
Let the unique qualities of curved glass contribute to the success of your next project. Contact Bent and Curved Glass.