New Round Metal Tile 'Dollar' from ALLOY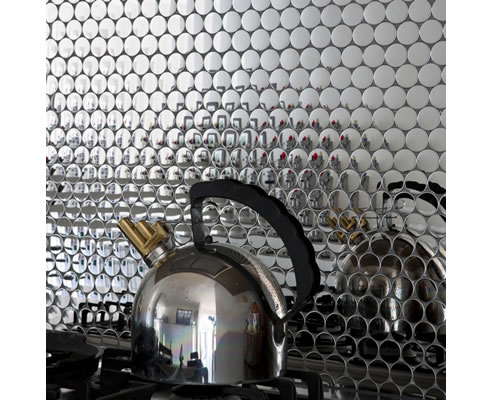 ALLOY Releases New Round 'Dollar' Metal Tile
For Designers Who Think Outside The Square
ALLOY introduces the latest addition to the ALLOY solid metal tile range - the perfectly round 'Dollar' tile. Approximately the diameter of a dollar coin, the 28mm ALLOY Dollar tile offers a striking for architects and designers who want to think outside the square tile.
'Big brother' to the traditional ALLOY 18mm Penny Tile, the 28mm Dollar tile was originally created for an ALLOY client wanting to create a bolder statement. The size proved to be very popular, so it has been introduced into ALLOY's permanent collection.
"The Dollar Tile was inspired by a client in the design industry who was looking for a tile that reflected the look of her industrial 'Pirelli' style studded rubber flooring," says ALLOY Design Director Jonathon Worner. "She approached us and we developed the Dollar tile in response and manufactured it in Mirror Polished solid stainless steel for her. The tile installation's perfect reflection provides an abundance of light, helping to open up the space while also delivering the high impact, high quality finish look that she was seeking."
The uniquely sized Dollar Tile is now available in all of ALLOY's 10 high quality, solid metals and finishes including Copper, Stainless Steel (brushed finish, mirror finish, matte finish), Raw steel, Brass and Titanium. ALLOY offers more than 320 styles and tile finishes as well as a specialized custom design and manufacture service. From the industrial undertones of brushed stainless steel to the deep visual opulence of milled brass, ALLOY provides solutions that run the design gamut from subdued minimalism to byzantine splendour.

ALLOY Dollar 28mm tile in Mirror Polished Stainless Steel.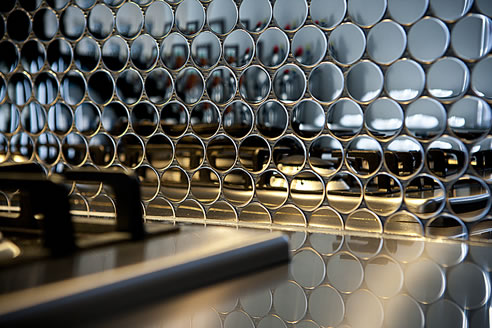 ALLOY Dollar 28mm tile in Mirror Polished Stainless Steel.