Premium Washroom Partitions Melbourne from Flush Partitions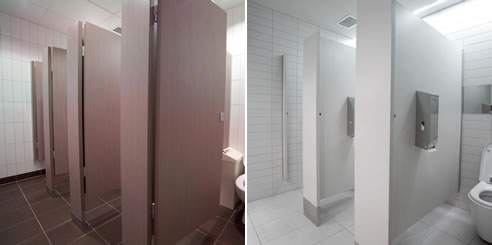 For quality washroom cubical solutions, Premium is our flagship product. Ideal for offices and restaurants, it is the most attractive of the cubicle systems in our range, but with the strength and durability that makes it an ideal choice for many applications.
The Premium system is floor mounted and free-standing with no overhead bracing, providing a contemporary, sleek look.
This is a versatile system which can be manufactured using a range of board options including:
13mm multi-purpose compact laminate board for all divisions, doors, frontals and nibs
33mm pre-laminated board for all divisions, doors, frontals and nibs (18mm pre-laminated board can be substituted for divisions only)