Heatray Tube Radiant Heaters from Celmec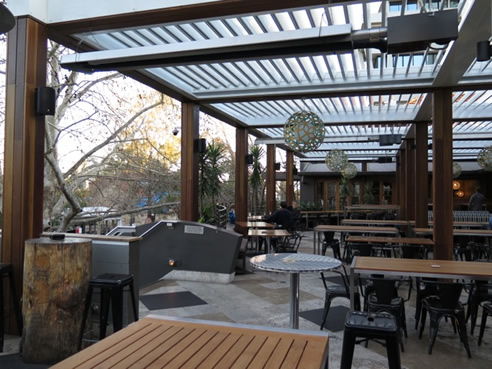 Commodore Hotel
Situated in Sydney's North Shore suburb, McMahons Point, is the Commodore Hotel, an establishment renowned amongst locals for its food and great atmosphere. The Commodore and Celmec have had a long relationship, as the Commodore was one of the first locations in Sydney to feature Celmec's Heatray Umbrellas with Electric Radiant Heaters (ERH) just over a decade ago.
2014 saw the Commodore undergo significant renovations to the function room, bar area and the outdoor dining area. These renovations saw the introduction of a virgola structure that can be opened and closed depending on the weather. Due to this the old Heatray umbrellas were removed. However one of Celmec's newer Heatray products replaced the ERH units that once heated the outdoor area. Six gas fired Tube Radiant Heaters (TRH UP3) were attached to the virgola structure to provide patrons with a comfortable, warm dining area during the cooler months.
Due to these TRH units being open to the elements waterproof burner boxes were installed. Burner inlet silencers were also used on these TRH units to ensure the comfort of patrons. TRH units are available in a range of sizes, with straight or 'U' shaped tubes, have multiple accessories and are the perfect solution for large volume spaces with high ceilings. For further information please visit the Celmec website www.celmec.com.au.