Steel Restoration and Protection Services from Poly-Tech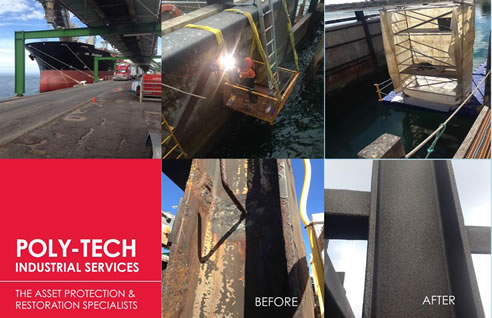 Maintenance of today's marine infrastructure assets can present many challenges. The goal is to keep structures operating at a level that is 'fit for the intended purpose' while minimising the ongoing financial investment required.
The key to successful marine infrastructure protection lies in recognising the corrosivity of the environment to which the structure will be exposed and in defining clear and appropriate coating specifications.
Where steel is in a dry heated interior environment the risk of corrosion is insignificant and often no protective coating is necessary. Conversely, steel structures (as pictured above at Flinders Ports Thevenard) exposed to an aggressive environment needs to be protected with a high performance treatment and may need to be designed with maintenance in mind if extended life is going to be required.
Poly-Tech provides complete protection services for marine assets including:
Surface Preparation
Our methods include abrasive grit/garnet blasting, hydro demolition and pressure cleaning, power tool cleaning including concrete, steel and timber substrates.