Extruded Silicone Rubber Expansion and Control Joint Seals by Neoferma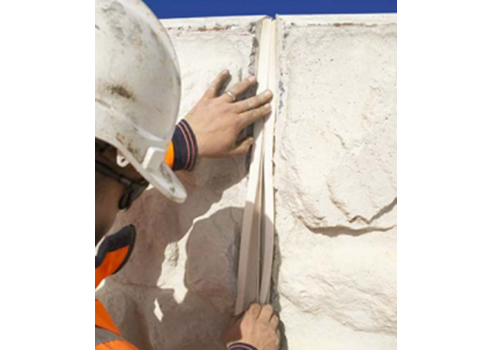 Known for their control joint seals, Neoferma is proud to present SpineSeal®, a patented brand of top-quality silicone rubber expansion joint seals.
Neoferma has envisioned SpineSeal® to be "your engineering solution for expansion and control joint seals." The Australian-owned and operated company achieves successful results with the state-of-the-art design of SpineSeal®: a fin-shaped seal, folded over a rigid backbone, driven into the gap between the panels.
SpineSeal® derives its name from the rigid polymer "spine" that locks it in place into the gap. Made of tough extruded silicone rubber, the seal provides a high quality finish for a variety of applications in an instant. SpineSeal® is suitable for sealing smooth metal surfaces, or the gap edges, in rough concrete to boost the finish quality of the panel gap. It can also be integrated to gap widths between the installed panels, ranging from 5mm to 80mm. With SpineSeal®, builders have a cost-effective engineering solution for small-scale to large-scale infrastructure projects.
Neoferma's ergonomic approach to design allows for streamlined installation of SpineSeal® silicone rubber expansion joints without heavy consumption of manpower and resources. As compared to traditional caulk seals, SpineSeal® does not entail complex and time-critical steps, and skills-based mixing and application processes. In fact, one non-skilled worker can install the control joint seals using only a simple rubber mallet after a short training session.