Secure Shopfront Shutters that Offer Visibility from Rollashield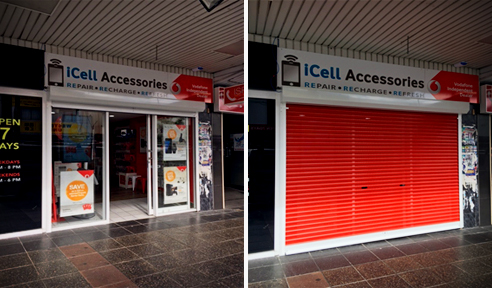 Can Shopfront Shutters be Secure and offer Visibility?
Rollashield Shutters manufacture, supply and install aluminium security shutters. We offer a lightweight extra strong aluminium perforated shutter that allows visibility.
The curved aluminium slat increases the strength of the commercial roller shutters. Locking clips on every slat make this shutter intruder proof. A unique designed guide is engineered to enhance the security of the roller shutter. Visibility allows displays to be visualised when the shop is closed. Visibility is also appreciated during lock up at the end of the day. Colour coordinate your secure aluminium shutter with your shop and enjoy the benefits our commercial shutters offer.
Aluminium Roller Shutters can be up to 6500mm wide in a single span. Operate Electric shutters with key-switches, remote control, key pads or wall switches, OR manually operate the shutter with spring assistance. Call Rollashield Shutters today to discuss your shop front roller shutter.