Colourful Acrylic Panels from Allplastics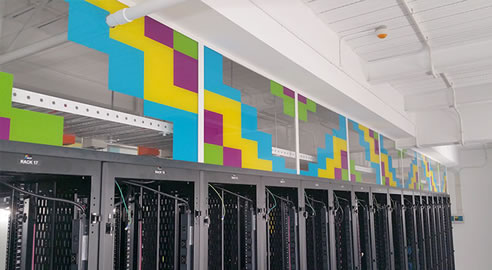 Let Us Colour Your World
At Allplastics we are often asked about achieving special effects of out acrylics and other substrates. Sometimes these finishes are not available or require uneconomic MOQ's minimum order quantity.
Recently we were approached by a client requiring special media walls for Channel Seven NEP facilities at the Sydney Technology Park.
With careful and constant communication Allplastics collaborated with PL group to achieve a stunning outcome of wide format print on 8mm thick clear acrylic panels with polished edges in a variety of colours to match the corporate colours specified by the corporation (See Photos).
There are many other applications where Allplastics can achieve wonderful effects with short notice by managing the production of plastics and the printing under one roof saving our customers double handling of the cutting, CNC routing and printing in separate locations.
The UV printing machines print both roll to roll and on flat substrates. These machines use a UV ink which is ideal for indoor and outdoor applications. The ink is flexible and can adhere to almost any substance including: corflute, timber, glass, acrylic, Xboard, aluminium composite and more.