Shadowline Skirting Series from Intrim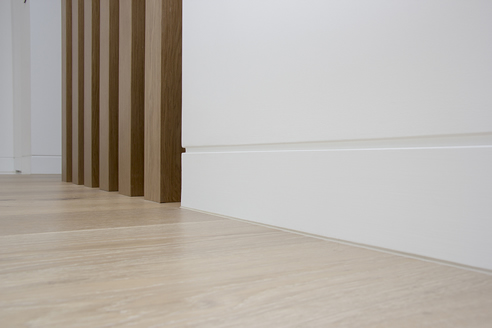 Intrim Shadowline Skirting: What sets our system apart?
The Intrim Shadowline Series skirting and door jambs are unique to us, and have been created with ease of installation and time and cost savings to our customers in mind.
Being a system which is different to others in the market, we are often asked about the differences with installation, strength and durability. We have addressed some of our most common questions and concerns below to help you make the right decision when choosing a Shadowline product.
How strong is the join & is it likely to crack?
We get asked this question frequently by builders and installers who have worked with the older P50 system - 'really how strong is the join' and 'is it going to crack?'
When using our system compared to the P50 metal angle, we can understand the concerns some may have when looking to join the Intrim timber Shadowline directly to the plaster and how the moisture content in the timber over time may affect the joint.
Intrim are very careful with the timber suppliers we use to ensure that the moisture content in the finished timber is correct. We test all of our timbers to ensure they meet our high standards. We also recommend that you purchase our Shadowline system pre-primed, which ensures a moisture barrier around the timber to reduce any moisture intake over time.