Matt Laminate Surfaces from Polytec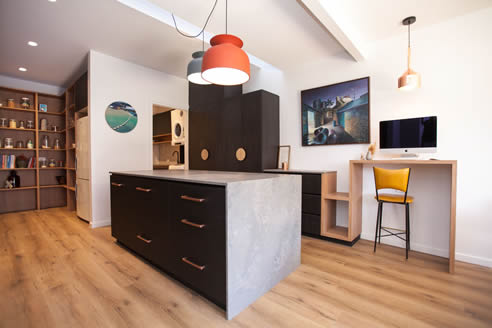 Venette Meet Ava
polytec's newest innovation in laminates promises an unrivaled anti-fingerprint technology in the purest matt form.
Venette's advanced Matt technology creates a soft appeal, and invites you to explore the surface without the danger of fingerprints and scuff marks. The lack of light reflection ensures your cupboards will stay consistent in colour, and remain pristine longer.
S. Group's Meet AVA project utilized polytec's new Venette range in order to create a modern and stylish home, while maintaining a child-friendly space. The quaint 1890's cottage may look small, however, S. Group used the space to their advantage and displayed its full potential as a family home.
Black Venette is used on the kitchen joinery, contrasting with the grey cement benchtops and timber-look shelving, proving that black cabinetry is becoming an essential to new kitchens.