Polymer Concrete Drainage for Coastal Streetscapes by Hydro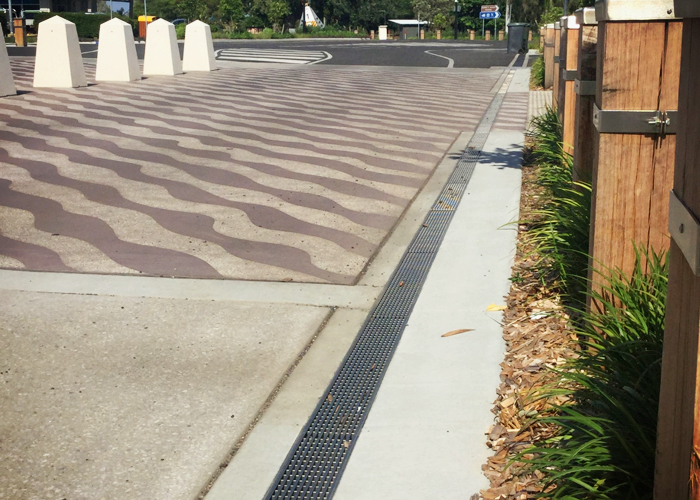 Over the years, Hydro Construction Products has seen a consistent rise of demand for their polymer concrete drain in coastal areas. It has been extensively used for a variety of landscaping projects mainly because of its economical traits; It is light, durable, and highly resistant to corrosion and chemicals. Synonymous with first-class quality and a practical investment, polymer concrete drainage from Hydro has changed the industries' mindset, claiming drain upgrades must be expensive or complex.
Polymer Concrete Drain in Action in Coastal Applications
Hydro Construction Products was commissioned in the redevelopment of the Burnett Heads Town Centre streetscape project. The objective was to make the landscape more friendly and appealing for both tourists and locals. The project required an economical drainage solution that would deliver an outstanding result without compromise on the coastal aesthetic.
Hydro's polymer concrete drain was regarded as the most ideal choice for the streetscape project. Based on natural mineral products including quartz, basalt, and granite, these concrete drains are highly resistant to high impact and chemical penetration, built for long-term quality and performance. They are noted for their lightweight properties for easy and practical installation without the need for heavy-duty equipment.
Hydro provided two types of coastal polymer concrete drain: stainless steel edge (150mm total depth) and cast-iron edge channels (200mm total depth). Both drainage types feature a 100mm clear opening width, sealable channel groove, and vertical discharge outlet connectors to channels or inline sump. SureGrip and ductile iron heelguard grates are used to create an impressive and uncompromising drainage design, harmoniously blending with the architectural character of Burnett Heads streetscape.
The project concluded with a successfully enhanced sewerage system in August 2018, along with new landscape designs and modernised roads. For more information, contact Hydro Construction Products or visit www.hydrocp.com.au today.