Stable Mats & Hemp Bedding from Sherwood Enterprises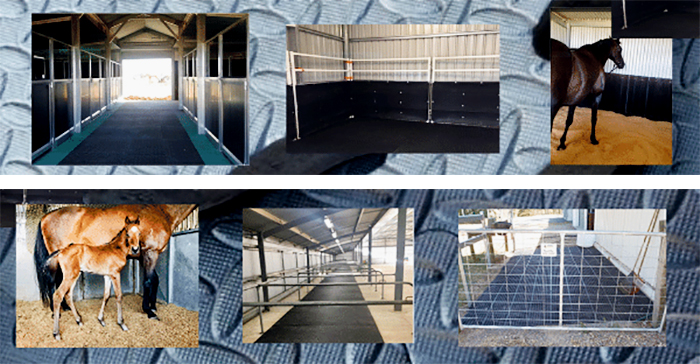 Environmentally friendly cushioned stable matting and hemp animal bedding now available from Sherwood Enterprises - ideal for horses.
Our family is extremely passionate about every stabled horse's health, safety, and welfare. So at Buckaroo Barn we have gone to great lengths to listen, question, and then trial with our own horses, flooring and bedding ranges before we stock them. We do this to ensure the flooring has health benefits and that it makes a horse stall healthier plus more comfortable - at our Redland Bay national warehouse. The success worldwide of our cushioned horse stall mats, like Buckaroo Barn range 4005 cushioned horse stall matting completed with Buckaroo Barn 4010 hemp horse bedding ensures we achieve our aim; Marketing a healthy, comfortable, safe horse stall flooring with which simply a horse can call home.
Cushioning horse flooring from Buckaroo Barn ensures comfort and as the horse moves, the closed cell matting cushions then recovers as the horse's weight is lifted. This movement enables blood circulation to the horse's frog, plus the comfort the horse recognises encourages it to lie down and get needed REM sleep for the day/activity ahead. Buckaroo Barn range 4005 horse stall mats are so easy to DIY install, so save a heap on costly labour. And, they, importantly, are fully sealed, so bacteria cannot breed in the matting and urine cannot sink in to form toxic, smelly ammonia (giving off a toxic odour which can develop in the airways into COPD disease).
The Equine Performance Industry advises cushioned flooring systems to reduce tissue fluid and reduce or can eliminate stocking up, hock sores from developing, and musculoskeletal disorders (MSD). These disorders are injuries or pain in the horses joints, ligaments, muscles, nerves, and tendons, etc. Buckaroo Barn 4005 horse matting will ease arthritic or inflamed joints and assists horses with laminitis of which several clients have reported.
The Buckaroo Barn 4005 mats interlock on all four edges, are not heavy, and are innovatively designed with horse in mind. They provide a density and hardness similar to an agistment paddock plus they will never go hard or collapse.
To complement our Buckaroo Barn 4005 horse stall & float matting, is our 4010 Hemp bedding with superior absorbency that will keep your stall floor dry for the horse to lie down in comfort. The hemp traps urine and stops smelly ammonia odour from developing plus the wet spots drop into the 4005 mats and is absorbed. Naturally antibacterial & antifungal, horse's hoofs are protected and, importantly, Hemp 4010 bedding lasts longer. Upon setting up around 6-8 bags you will only need a couple of bags per month. Yes! It is a little more expensive than traditional bedding but healthier, lasts longer, and annually works out financially better.
The 4010 bedding is dust extracted and vacuumed sealed in a polyurethane bag. The benefits will assist your horse's welfare plus mucking out is quicker - you only need to remove the manure. Given it's naturally cultivated, 4010 horse bedding has no usage of insecticides or pesticides when being cultivated. Finally, it is environmentally-friendly being biodegradable when removed from the stall; It rots down as a soil fertiliser in a few weeks when mixed with manure.
Sherwood Enterprises is a proudly 100% Australian family owned & operated distributor business established in 2004.For more information, please visit our website at buckaroobarn.com.au.