Housing report card highlights ongoing supply pressures in Victoria - Housing Industry Association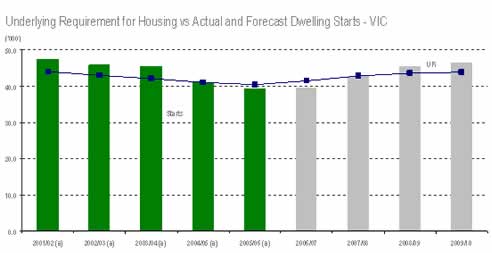 Australia's most comprehensive report card on Victoria's new housing industry has again highlighted the current difficulties in putting an affordable house or unit on the ground.
Commenting today on the release of the March 2007 quarter HIA Victoria State Outlook publication, HIA Acting Executive Director, Victoria, Ms Caroline Lawrey said that record low housing affordability presented a massive constraint to a housing recovery and confirms the urgent need for an all of government approach to the problem.
"HIA's latest forecasts for Victoria, released today at the Building and Business Show at the Melbourne Exhibition and Convention Centre, suggest that despite a comparatively good performance against other states, low levels of affordability will see at least one more year of below par levels of home building in Victoria," Ms Lawrey said.
"Based on the latest population and immigration numbers, Victoria needs over 41,000 new homes added to the stock each year, which sadly is a level that we have not got near since 2003," she added.
"Nevertheless, Victoria is the best placed of the resource-poor states and we look set to lead a modest housing recovery in 2007/08."
"For the immediate future, any further hike in mortgage rates in 2007 will derail the chances of such a recovery in the short term, and dampen the flow of private investment in rental housing which remains over 30 per cent below its peak."
"We have retained our forecast for a flat year for housing starts in Victoria over the current financial year followed by growth of 9 per cent in 2007/08. Starts are forecast to increase by a further 8 per cent over 2008/09 – 2009/10 to a level of 46,480."
"An emerging recovery in the renovations market in Victoria is expected to continue."
"After falling by 11 per cent over the last two years the renovations sector is forecast to grow by 12 per cent in 2006/07 and by a further 6 per cent over the subsequent three years through to 2009/10."
"Total spending on renovations in Victoria is forecast to reach nearly $6.9 billion by the end of the decade."
"Steady interest rates, together with a concerted effort on the part of all levels of government to address the crisis in affordability, will allow for a slow return to growth for new housing," Ms Lawrey said.