The Original stainless steel mosaic tiles by ALLOY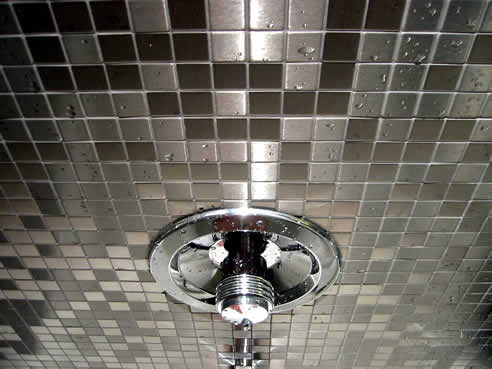 They've changed the 'face' of mosaic tiles forever. Sleek and unrelentingly stylish, ALLOY metal mosaics have become the mainstay of the ALLOY contemporary metalware range. A trip to Melbourne by design director Jonathon Worner in 1998 inspired the invention of the, now much imitated, 20 x 20mm brushed stainless steel sheeted mosaic tiles.
After many months of rigorous design and testing to ensure long lasting strength and durability, the ALLOY stainless steel mosaic tile was complete. ALLOY was the first and is still the only company to use a thick and solid 2mm material. The tile sheets, unlike low-grade copies, contain no backing mesh plastic inserts or metal look-alike 'metallic' coatings. As a result ALLOY mosaic tiles provide an unsurpassed, eye catching finish and are highly sought after world wide, featuring in many high profile commercial and domestic interiors and exteriors.
The ALLOY mosaic tile range now encompasses a full range of materials including stainless steel, copper, brass and raw steel in a striking array of finishes, shapes and sizes accompanied with a full range of installation finishing pieces.