Eco-friendly LG Floors from Sherwood Enterprises - 50% recycled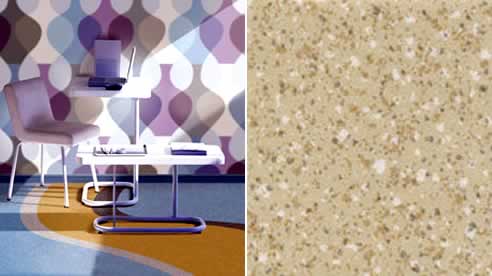 LG Floors is distributed nationally by Kenbrock Flooring an icon in the Australian Flooring Industry for over 40 years. LG Floors is taking manufacturing and the environment stewardship to the next level with products ranges such as the latest collection of Durable and Supreme Dot & Bright with a recycled PVC content of up to 50% ensuring sustainability and recyclability in PVC sheet flooring and responsibly reducing LG Floors carbon footprint.
Kenbrock Flooring have released the latest catalogues of these vinyl sheet ranges 2 meters wide and AS/NZ's 4586 resistance R10 slip result and compliance AS/NZ'sto 9239-1 Fire. These new ranges depict Timber Visuals & Surface Interest Designs from $28.00 - $40.00 and Supplied Installed flat lay and subject to subfloor conditions ensure projects budgets can be obtained and importantly these ranges LG Floors has the Environment in mind that may lead to green points.
LG Floors is certified ISO 9001 Quality Management and En 14001 Environmentally approved certification.
Kenbrock Flooring maintain excellent stock levels in there Australian warehouses for immediate quick delivery for your future project.
ClinicFloor the No Pile Carpet with Horizontal Fibers
Kenbrock Flooring also distribute and stock Clinicfloor the Unique Horizontally constructed Antron 6.6 Excel Nylon Yarn. Clinicfloor is 100% 2 meter wide Needlepunch textile sheet recyclable flooring product and utilizes a second layer of recycled polyester fibers for dimensional stability and won't shrink at the joins.
Clinicfloor was recently specified for Padman Health Care facilities in Sth Australia and also installed recently at Whelan RSL Aged Care facility in SA. Clinicfloor has been successfully installed in a number of QLD State Schools as it is listed as a preferred carpet.
Just imagine the Feature/Benefits of a textile carpet that has 'No Carpet Pile' horizontally constructed and performs as a hard floor, but importantly with a textile appeal. Clinicfloor is ideal for usage in Hospitals, Health Aged Care Facilities, Education from Child Care to Universities and Gymnasiums facilities and indeed in any commercial installation where a heavy duty certified carpet is required.
Available in 40 Designs and 400 colourways Clinicfloor extends a horizontal textile carpet extending design opportunities of colour, fun, performance, durability and aesthetically pleasing in its day to day performance of a heavy duty textile carpet that will last for many years.