Wrought Iron Doors from Budget Wrought Iron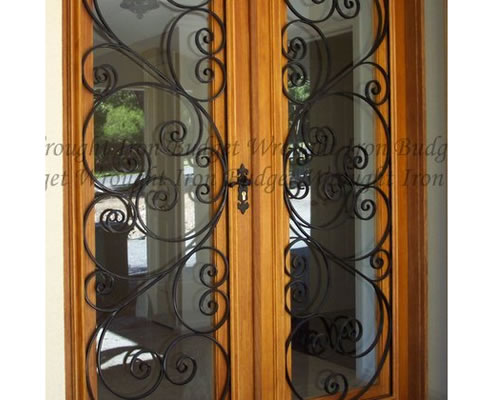 At Budget Wrought Iron we strive to continuously create new products to accommodate your needs. The introduction of our custom iron doors is designed to add attractiveness and security to your home. We manufacture our own timber framed doors on site, your custom iron door can be built with either hard wood or western red ceder. Our new iron entrance doors can either have a fixed glass backing or, if you prefer, a hinged glass backing.
Our iron entrance doors come with the choice of a hinged glass backing so that you can eliminate the need for a security door as a security door prevents you from admiring your beautiful wrought iron door from outside. The glass is hinged so you are able to open the glass from inside your home and allow air to flow through your house, while your house is still secure against possible intruders. The type of glass available for your door is clear or open in 6.5mm thickness.
If you are interested in a traditional wrought iron door with no timber, we can easily meet your needs and expectations with a stunning design that will be pleasing to look at while securing your home. At Budget wrought iron we have many years experience in delivering our customers the wrought iron doors that they expect, with perfect workmanship.
Our wrought iron doors are designed to Australian standards and are built with the highest quality materials - your wrought iron door will last a lifetime.