Under Sink Sullage Units by Zenox from Maxijet Australia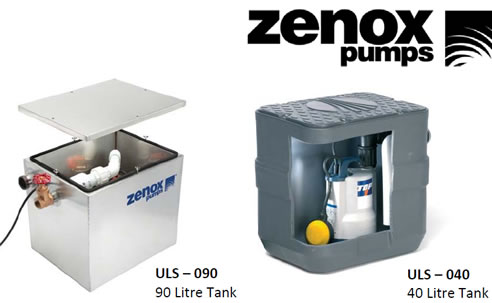 Zenox undersink sullage units are designed for commercial or domestic applications in situations where it's not possible for sink and basin waste to get gravity fall to the sewer.
The Zenox undersink sullage unit will give an absolute piece of mind with its optional high level alarm, when operating at high level can isolate mains water to the sink or dishwasher to prevent flooding and power off option when dishwasher is in use.
The Standard Zenox Undersink Pump chamber comes standard with a high quality vortex style stainless steel pump capable of handling solids up to 20mm diameter and a pumping height of 6 metres. For situations needing higher head and pumping long distances an alternative pump will be matched to your needs and custom built to your requirements. Up to 17 metres of head can be achieved using the same sized pump chamber, for requirements greater than this a special system can be built to suit your project's needs.
The Typical applications for the Zenox undersink units are Café, Dental Surgeries, Bakeries and Take Away, Laboratories, Granny Flats, Basements, Air Condition Condensate Units, Home Bar Units/ Cellars.
Call the Team at Maxijet on any additional information you may need. PH: (03) 9336 1000