Green Sleeve H2O Retro-Fit Urinal Sanitiser from Bio Natural Solutions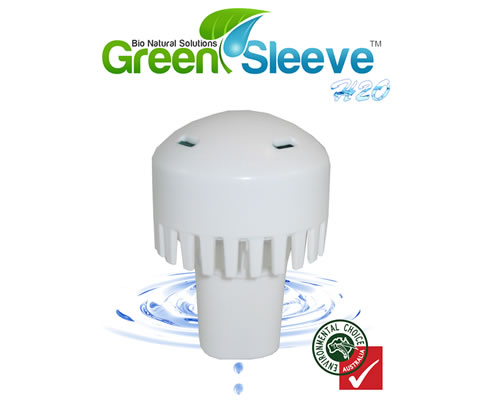 If you are experiencing issues with the CAROMA® H2ZERO™ CUBE³ low flush urinals, you should retrofit them with the Green Sleeve™ H2O. This innovative device is a consumable retro-fitting urinal sanitiser that locks in odours and prevents foreign matter entering the pipe work, preventing blockages and unpleasant smells constantly seen when this particular type of urinal is installed, helping you save thousands of dollars in maintenance costs and plumbers call outs. Then you won't have to think about replacing them anymore.
The Green Sleeve™ H2O is specifically designed to retrofit the CAROMA® H2ZERO™ CUBE³ and it easy fits into the existing outlet hole without the need for additional components. It lasts up to three months, maintaining urinal efficiency and presentation whilst reducing excessive maintenance costs. At the same time, the Green Sleeve™ H2O releases friendly bacteria that digest the components of urine and organic waste, preventing uric salt calcification and struvite within the plumbing, which allows wastewater to flow smoothly and eliminating the chances of water pooling in your urinals and unpleasant smells coming into the washroom.
The Green Sleeve™ H2O is a watermarked product and it is the only urinal sanitiser to be eco-label certified by GECA. Contact us on 1300 730 551 or visit our website www.bnsolutions.com.au to find out more.
Bio Natural Solutions Pty Ltd Profile
1300 730 551
03 9338 6722
15/49-55 Garden Drive, Tullamarine, VIC, 3043
Shop Bio Natural Solutions Pty Ltd