Neoferma Launches New Website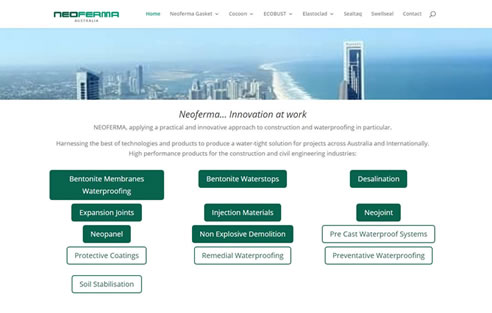 Neoferma proudly unveil their newly redesigned website - featuring a sleek design, streamlined navigation, and quicker access to information and contact services. The Australian-owned and operated company is a recognised leader in waterproofing solutions within the building and construction industry. In service for three decades, Neoferma continue to evolve their catalogue and methodologies to cater to the changing demands of the built environment.
At a glance
Neoferma boasts a complete overhaul of their website without alienating their longtime clientele. The team opted to retain a clean, white background to focus the spotlight on their wide range of products, showcased on a menu selection at the centre of the homepage. Users will have no problem finding the solution they are looking for, from bentonite waterproofing membranes to protective coatings and injection materials.
Neoferma's top-billed offers - Neoferma Gasket, Cocoon, ECOBUST, Elastoclad, Sealtaq, Swellseal - are neatly laid out in a row at the navigation toolbar on top of the page. Each product has its own drop down menu, which navigates to useful details like the product's applications, specifications, uses, as well as downloadable datasheets. The contact link and search bar can also be easily located at the rightmost edge of the navigation toolbar, which is set to fixed position for easy access even when scrolling the page.
Contacting Neoferma is also made easier with the comprehensive enquiry form at the bottom of the homepage. Clients can simply fill out their name, company, position, contact details like email and phone number, and the attached message before hitting the submit button.